The Indigenous Education Centre serves all schools in School District 60, developing and promoting Indigenous programs that increase knowledge and understanding in the community. Working with teachers, support workers, administrators, and the broader community, its representatives assist with providing cultural awareness sessions, workshops, counselling, restorative justice facilitation and more.
Traditional Territory
We work, learn, and live on the traditional territory of the Tsaa? Çhé Ne Dane or Dane-zaa. Our district is also in Treaty 8 territory, the only numbered treaty in British Columbia.
Dane-zaa Word of the Day
Je aa haanach'e (Jah han a che) - Hello, how are you?
Audio recordings of more words and phrases are available on the First Voices website.
Local Education Agreements
School District No. 60 has signed Local Education Agreements (LEA) with all three of our First Nations communities; Blueberry River First Nations, Doig River First Nation and Halfway River First Nation. Local Education Agreements are important tools for building relationships between First Nation communities and Boards of Education, in order to support improved First Nation student outcomes (FNESC, 2019). Click on the poster below for more information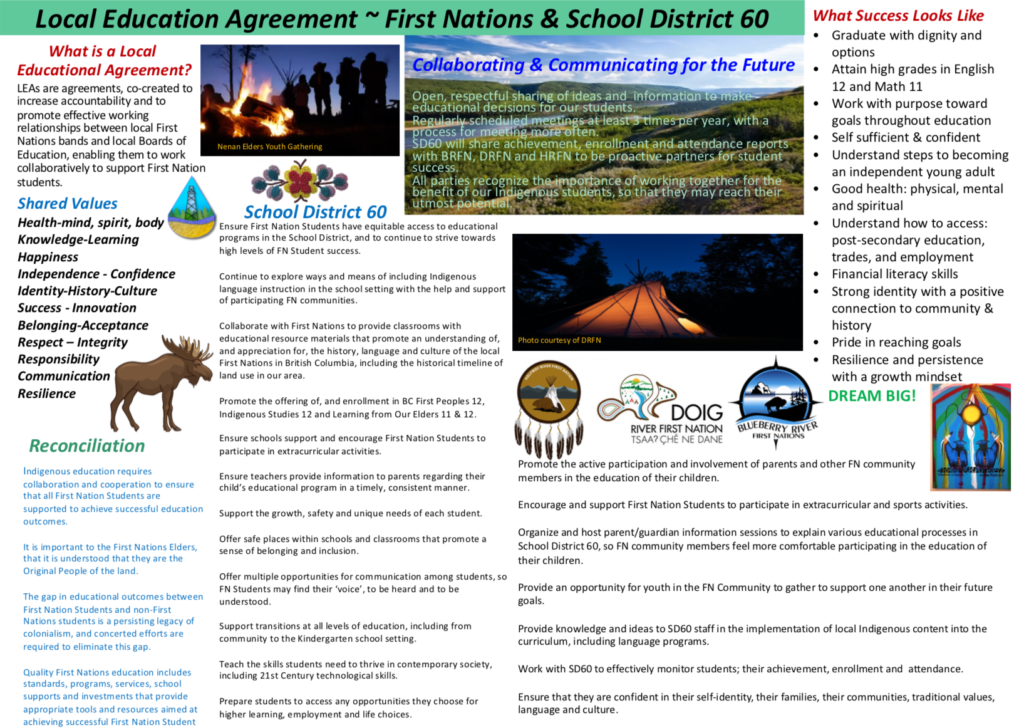 For more information, visit our Indigenous Education website.
Contact
Pat Jansen, Principal
Phone – (250) 261-6244
pjansen@prn.bc.ca
Marie Westergaard, Secretary
Phone – (250) 785-8324
mwestergaard@prn.bc.ca
Indigenous Education Center
12264 242 Road, Grandhaven
Mailing Address
12264 242 rd
Fort St. John, B.C. V1J 8A8
Phone – (250) 785-8324
Fax – (250) 785-0846