On behalf of Northern Health Chief Medical Health Officer and Medical Health Officers, please see the attached letter regarding COVID-19 Youth Immunizations (ages 12-17). Click on the image or link below. 
06 01 2021 COVID-19 Immunization Letter to Parents-Guardians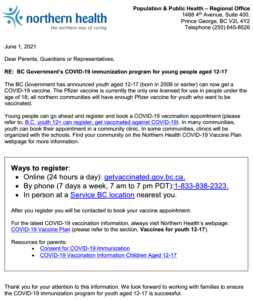 ---
Our communication channels include our primary channel, www.prn.bc.ca , social media via www.facebook.com/sd60prn & www.twitter.com/sd60 , and email. 
Collected updates and resources about COVID-19 are available at https://www.prn.bc.ca/resources/covid-19/