Please read all information on this page carefully. 
Registration for 2023-2024
Parents can register online through the provincial student information system MyEducationBC using a computer/laptop (or Request the desktop site using your mobile browser features) or schedule an appointment for in-person registration starting in January 2023 . If you have difficulties with the online registration please check the support document in the related links for this page or contact your school. 
---
Online registrations after June 30 will be processed in late August and early September. In-person registrations are available again one week before school begins in the fall. Late registrants may not be able to get a seat in their home school. The district will work with you to find a nearby alternative.

We recommend early registration.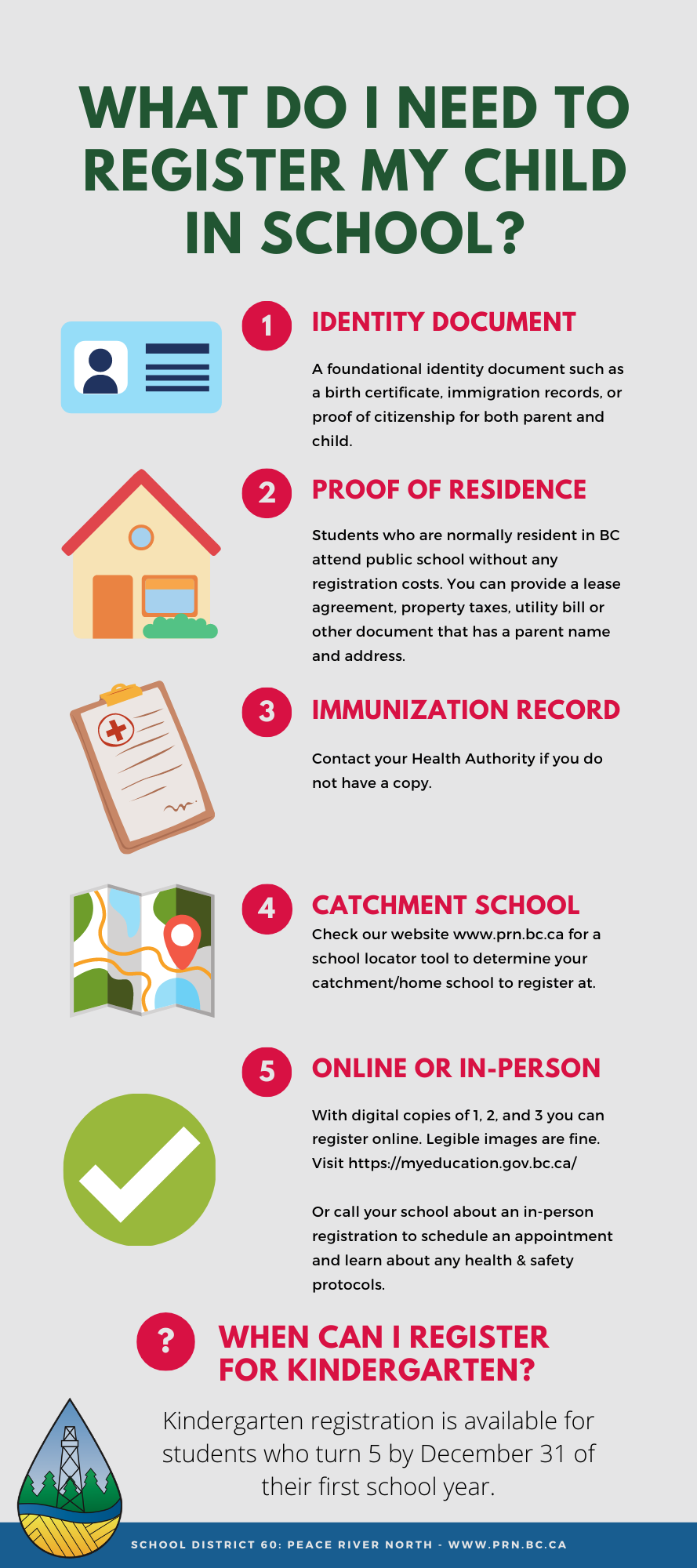 Starting in January all Peace River North Elementary Schools will be accepting Kindergarten Student and All Grades for New Student Registrations for September.
Children who will be five (5) years of age by December 31, 2023 are eligible for registration in Kindergarten at their local schools.
Registration for Kindergarten students for the 2023/2024 school year will take place online and in-person at schools by appointment during regular school hours.
School Catchment and Home Schools
Please register directly with your home school whether it be online or in-person.  If you are uncertain of the school boundaries (also known as catchment areas) please contact the nearest school or scroll to the bottom of our School Catchment Locator and enter in your address. It is strongly recommended that you register at your earliest convenience. Online registrations that are out of catchment will be transferred to the correct school.
Variances
If a family would like a variance from their home catchment school:
register at the home catchment school online or in-person with an appointment
apply for a variance for the school of preference. For more information about variance process please read the letter available at https://www.prn.bc.ca/school-variances/
French Immersion
French Immersion Kindergarten is available at École Central Elementary School of the Arts only. Please call the school (250-785-4511) for further information regarding the French Immersion program. For students entering Grade One, French Immersion is also a possibility at École Central depending on space. A Variance is not required for registration in French Immersion however space is limited. If a waitlist is established online registrations will be transferred to the home school catchment so that a space is reserved.
Online Learning Options
Blended Kindergarten Learning and Online Learning are available at the Key Learning Centre. Online Learning was previously called Distributed Learning. Please call the school 250-261-5660 for more information.
Transportation
Busing will be provided for rural Kindergarten programs. Availability and times vary from school to school so please call your school or Transportation for the appropriate details.
Students on a variance may not be eligible for transportation depending on seat/route availability. For some rural locations the available bus route may determine the catchment school.
PLEASE BRING / OR HAVE A DIGITAL COPY AT THE READY FOR ONLINE REGISTRATION
YOUR CHILD'S BIRTH CERTIFICATE OR IDENTITY DOCUMENTS
PROOF OF RESIDENCE
Proof of Residence can be provided through any of the following with your current address listed:
Driver's License
Utility Bill
Mortgage Statement
Credit Card Invoice
BCID
Municipal Tax bill
Rental Agreement
Notary Authorized Letter
YOUR CHILD'S IMMUNIZATION RECORD
Register Online
If you do not have a child in a BC public school you can request an account at the link below to start the process. If you already have a MyEducation BC family portal account, use that account to start the registration process.
If you have any difficulty with the online registration please see the related support document.
---
If you have further questions about catchments or variances, please contact
Mr. Jarrod Bell, Director of Instruction at (250) 262-6017.