The Reporting Pilot will be replaced by the K-12 Reporting Policy Framework in the 2023-2024 school year. Feedback from our pilot schools has helped the Ministry in the creation of the new policy framework.
In 2016 the Ministry of Education introduced a new K to Grade 9 curriculum. The new curriculum is concept-based, competency-driven designed to help students develop core and curricular competencies. With the new curriculum came an opportunity to rethink assessment and reporting practices in the province of British Columbia. Why change from the 1994 reporting policy? The foundations for the draft reporting policy include research, parent engagement, surveys of a school district, and work of the Classroom Assessment and Reporting Advisory Group which included 40 experts from the education field including partner groups.
Informed Directions: Foundations for the DRAFT K–9 Student Reporting Policy (2019) and Pilot
In June of 2018 the Ministry of Education requested Districts to participate in a Reporting Pilot for the 2018-2019 school year. SD60 was accepted into the pilot group in late June. Interested schools were asked to identify themselves to the District. Conversations with District staff, Principals, and Teachers began in late June through September 2018 to select pilot schools where significant teacher interest was indicated. The pilot has been extended by the Ministry of Education for the 2020-2021 year.
The four schools participating in the pilot are:
Alwin Holland
Duncan Cran
Taylor
Upper Halfway
Our Goal
Along with providing feedback to the Ministry of Education, we are working with schools and teachers to consider how we can change reporting in School District 60 so that it is more timely, strength-based, and better for supporting a student's learning. Feedback will be provided to the Board of Education for consideration for a future reporting policy.
What Does the Pilot Entail?
The Ministry of Education is looking for feedback from schools and districts to inform a Grade K-9, and possibly a Grade 10-12, Reporting Order. A Reporting Order sets forth requirements on districts, schools, and teachers as to what is reported and how often reporting is to happen. Currently, we have a temporary reporting order in K-9 that allows school districts to choose one of two options. Option A requires a Board policy that allows for more timely, rich communication of a student's learning. Option B more closely matches the traditional report card practices. School District 60 currently uses Option B.
The pilot group is using requirements that are a modification of Option A. The minimum requirements are as follows:
Summary of Progress at end of the year or thr student leaving school (Using the provincial Student Information System MyEducation BC.)
3 Core Competency reflections at the end of the year with an artifact from student's work
Multiple points of progress during the year with the following requirements:
No surprises for families
Ongoing conversations with strength-based descriptive feedback
Two times where well-being/engagement/behaviour is reported
Two written/electronic reports (can be documentation of Phone calls / Parent-Teacher / Student-Led conference, ePortfolios)
Developing 3 core competencies during the year
All areas of learning have descriptive feedback at least once during the year
A proficiency scale is given for all areas of learning at least once during the year (ADST and Careers will remain as descriptive feedback)
The traditional report cards in the fall and spring will not be provided at the pilot schools. The Summary of Progress at the end of the school year will be a formal written report similar to a report card. Proficiency Scale The three different scales (K Scale, Primary Scale, Intermediate Letter Grades) currently in use in K-9 for pilot schools will be replaced with one proficiency scale shown below.
Emerging (EMG) – Developing (DEV) – Proficient (PRF) – Extending (EXT)

Provincial Proficiency Scale
The aim is for students to reach proficiency. A letter grade conversion table is available for parents with students in grades 4-9 who request it. Ultimately Proficient represents attaining a Class 5 driver's license. Extending represents learning to drive many different vehicles in a wide variety of situations.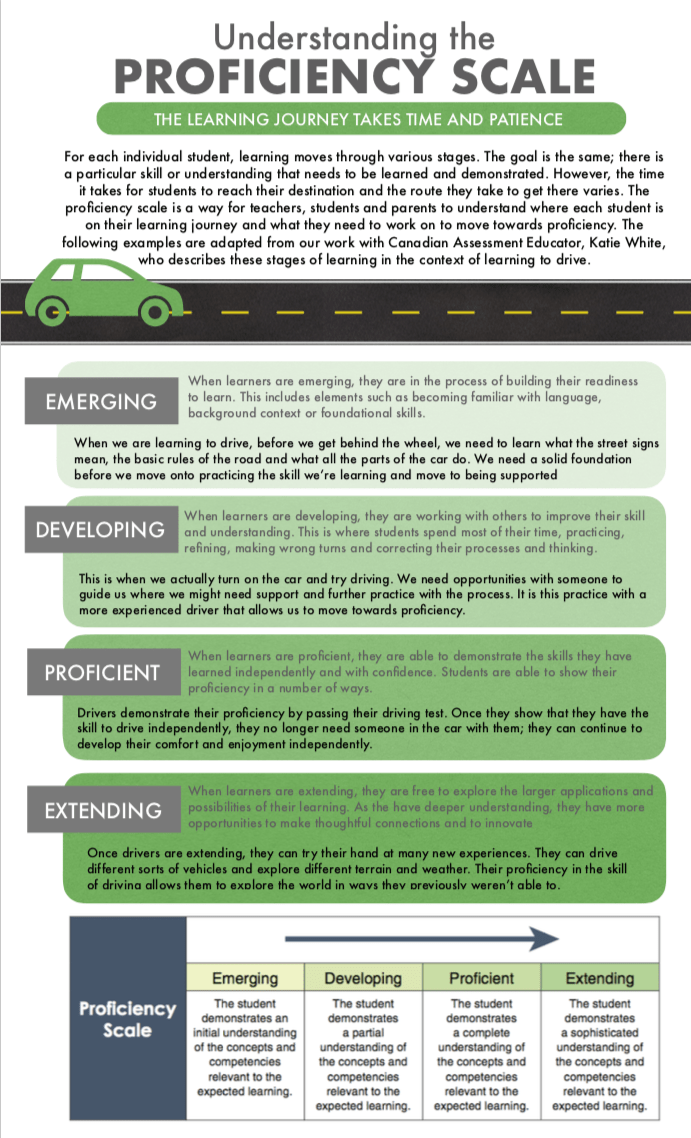 This four-point proficiency scale aligns with the proficiency scale used in the new Graduation Assessments.
Parent Concerns
Some concerns that have been raised revolve around the importance of failure, not understanding the new scale compared to familiar letter grades, motivation, and life lessons. Failure is an important part of some learning journeys, it should not be permanent, however. The proficiency scale language represents a snapshot in time and students have the ability to improve in their learning. Communicating Student Learning should build hope, efficacy and achievement. The following infographic was jointly created by participating in pilot school district personnel in response to some of the parent concerns.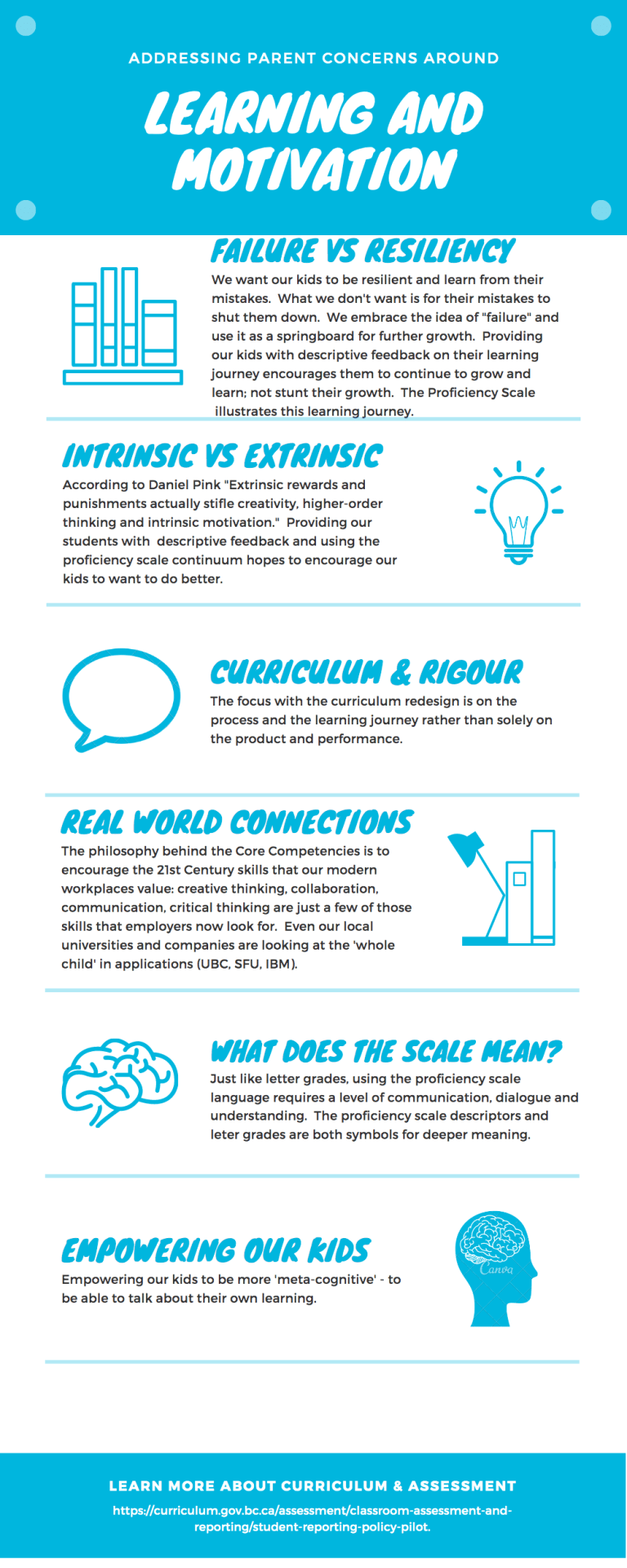 Presentation
The embedded presentation below has been given at Parent nights and PAC sessions.
Questions or Feedback
If you have any questions or feedback please feel free to contact your school Principal if you are a parent or student in a school participating in the reporting pilot. You may also contact the Director of Instruction, Jarrod Bell.
Jarrod Bell
250-262-6011
jbell@prn.bc.ca